Fracturing your shoulder blade means fracturing your scapula. It's possible to fracture your shoulder blade, although this is relatively rare. Scapular fractures are uncommon, accounting for less than 1 percent of all fractures. Symptoms of a fractured shoulder blade include severe pain, bruising, and swelling. Most scapular fractures respond well to conservative treatment, which includes a brief period of immobilisation followed by mobility and strengthening exercises.
What does a fractured shoulder blade look like?
Locations of shoulder blade fractures are shown in the diagram below.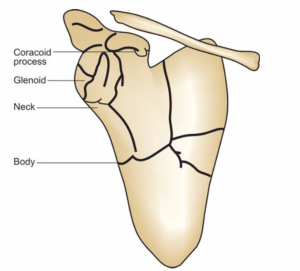 Read more about Fractured Shoulders: