Shoulder Range of Motion after Shoulder Replacement (TSA):
130° in forward flexionIs an upgoing movement from the front side or the sagittal plane facilitated by the pectorals, anter More/elevation (range: 104° to 147°)
125° in abductionIs a sideways upgoing movement in the frontal plane brought about by the supraspinatus and the mid More (range: 86° to 145°)
50° in internal rotation (range: 43° to 54°)
40° in external rotationThe range of shoulder external rotation is one of the most important metrics in the field of general More (range: 25°-50°)
Source: A biomechanical analysis of strength and motion following total shoulder arthroplasty 
Shoulder range of motion after Reverse Total Shoulder Replacement and Hemiarthroplasty are discussed further in the article. 
Are you considering Shoulder Replacement surgery? 
If you're considering shoulder replacement surgery, download Reflex: Shoulder Mobility App to help make an informed decision. With this app, you can measure your shoulder range of motion and track your pain over time.
Surgery should only be considered if no improvements in shoulder painShoulder pain is any pain felt around in and around the shoulder joint. The shoulder is the most mob More after a long period of non-surgical treatments and following a tailored Physical Therapy Programme. Visualise your pain and ROM data so you can have more control in your health decisions.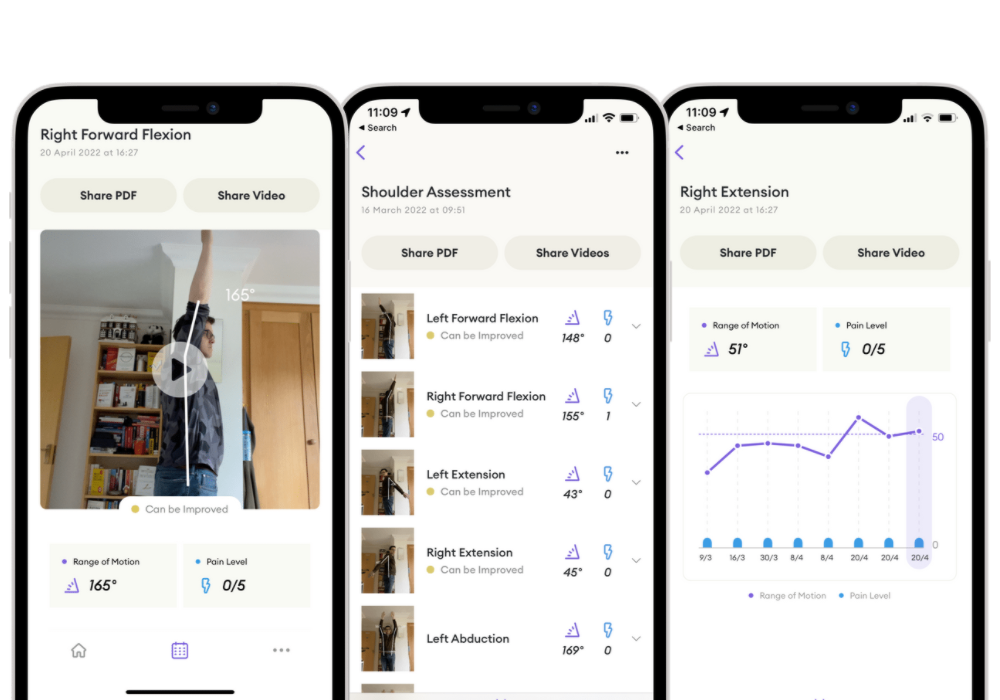 Shoulder range of motion after surgery is less than the average range of motion of the shoulder. 
What is a shoulder replacement/arthroplasty
A shoulder replacement/arthroscopy is an umbrella term for the variations of shoulder replacement which include total shoulder arthroplasty (TSA), reverse total shoulder arthroplasty (RTSA), and hemiarthroplasty (HA).
A total shoulder replacement surgery swaps out the arthritic parts of your shoulder jointThe glenohumeral joint is a ball-and-socket synovial joint and is the most mobile joint in the human More with prosthetics. You are eligible for a total shoulder replacement if your joint has significant arthritis but you have no or very minimal damage to your rotator cuffThe rotator cuff is a group of muscles and tendons that attach the shoulder blade to the upper arm b More, otherwise a RTSA or HA will be considered.
Note: Shoulder replacement and shoulder arthroplasty is used interchangeably throughout this article. They hold the same meaning.
Key:
Total shoulder replacement/arthroplasty (TSA)
Reverse total shoulder replacement/arthroplasty (RTSA)
Hemiarthroplasty (HA)
Are shoulder replacements common?
On average a total of 59,000 shoulder replacements are carried out annually in the USA, as reported by the U.S. Agency for Healthcare Research and Quality. To put it into perspective, this 1 in every 6,000 Americans each year. This data can be broadly extrapolated to other medically advanced countries.
This is in contrast to the 900,000+ hip and knee replacement surgeries annually. The difference is largely due to the complexity of the shoulder joint in comparison.
Shoulder replacement surgeries are becoming more and more common, being completed increasingly each year, with the population groups getting younger. This is likely due to the number of impact sports people are playing at a high level, such as rugby, American football, basketball and others. The advancements in surgery have advanced at lightning speed since the first one back in 1849, but the rehab has not advanced quite as well in our opinion.
Who should strongly consider a shoulder replacement?
If somebody has high levels of arthritis present in the shoulder joint, or defects of the anatomical shape due to a major trauma or repetitive injuries- then treatment is necessitated. The first step is to trial all appropriate nonsurgical treatments, such as medications, activity changes and Physiotherapy/ Physical therapy. If these have been attempted with no significant improvement, it would be prudent to strongly consider shoulder replacement.
Who is not eligible for a total shoulder replacement/arthroscopy?
In patients who are not candidates for a Total Shoulder Arthroscopy due to rotator cuff dysfunction, rheumatoid arthritis, or a proximal humerus fracture, the choice between RTSA and a HA remains controversial. As compared to a HA, RTSA has been associated with improved functional and range of motion outcomes. However, a HA is generally perceived as the "safer" option in patients who wish to remain active because there is less risk of failure.
What is the normal range of motion after shoulder replacement, and does this differ depending upon the type of surgery?
In short, YES! Normal range of motion after shoulder replacement completely depends upon if we are talking about a complete total shoulder replacement (TSA), reverse total shoulder replacement (RTSA) or a hemi shoulder replacement (HA).
For TSA –  we typically see in our practice (with studies in strong support) the return of shoulder range of motion being;
130° in forward flexion/elevation (range: 104° to 147°)
125° in abduction (range: 86° to 145°)
50° in internal rotation (range: 43° to 54°)
40° in external rotation (range: 25°-50°)
There are then only small improvements in range of motion from 6-12 months.
For (primary) RTSA patients –  Patients often regain in excess of 105° active shoulder elevation with functional ER up to 30°.
For HA patients. The above RTSA results are superior to those of HA for RC arthropathy, who typically achieve on the lower end of the range of motion scale of;
80-90° for both shoulder elevation, and abduction
with limited internal and external rotation to 15-20°
Are there functional limitations for most people after a total shoulder replacement surgery?
Generally speaking, yes but for many it is not significantly noticeable – and many are actively curbed by their surgeon. Traditionally, for the majority of patients, the recommended load by many surgeons is 4.5 – 6.8kg (10-15 lbs), and this upper extremity lifting limit is advised to be followed indefinitely, to ensure that the operative shoulder is not strained beyond its structural integrity. That all being said, with the population becoming younger, and therapy advancing, we have brought many people back into full contact sport after TSA, HA and RTSA. See below.
What is the success rate in returning to sport for the different types of shoulder replacements?
The rates of return to sports following TSA (75%-100%) are higher than those reported for HA (67%-76%) and RTSA (75%-85%). Patients having a TSA, rTSA, and shoulder HA should be advised that there is a high likelihood that they will be able to return to their preoperative activity level < 6 months post-operatively.
Total shoulder replacement return to sport stats:
There was a landmark longitudinal study completed recently tracking patients over a 5-year period that is pertinent to share.
In this study, by Johnson et al (2016) the researchers conducted a retrospective review of 61 patients who underwent a total shoulder replacement. The average age at the time of surgery was 48.9 yrs old (ages 25 to 55), of which most of the shoulder damage (80.3%) was caused by osteoarthritis. Nearly 68% of patients said they hoped to return to sports following surgery.
Among the highlights of the study:
93% of patients were satisfied with the outcomes of their surgery, and 96.4% (55 out of 57 patients) returned to at least one sport at an average of 6.7 months following surgery.
The direct rates of return to sports included: fitness sports (97.7%), golf (93.3%), singles tennis (87.5%), swimming (87.5%), basketball (75%) and flag football (66.7%).
More than 90% of patients returned to a high-demand sport and 83.8% returned to a sport that required high use of the arms and shoulders.
There was no significant difference in the rate of return to sport by body mass index, sex, age, preoperative diagnosis, revision status and/or dominant extremity.
Our results evaluated patients at an average of five years of follow up and most patients continued to be very satisfied and performed a high number of sporting activities, including those that required high use of their shoulders.
Is there any difference in the rehab between the types of shoulder replacements?
Yes, there is. If you have had a TSA, then rotator cuff exercises will often form a part of your physiotherapy program. However, if you have had a RTSA then you should not do these. This is because no rotator cuff muscle is present, so strengthening should focus on the deltoid muscle to help your arm move. You should also not complete any movements that rotate your shoulder externally to end range.
What are the early signs of good and effective recovery?
Patients who have a negative external rotation lag sign at the initial strengthening phase of rehabilitationRehabilitation is the process of helping a person regain strength and function after an injury. This More tend to progress faster in terms of strength, functional progression, in addition to demonstrating higher active elevation ROM at the time of discharge from Physiotherapy/ Physical therapy.
Advice following shoulder replacement to gain the best chances of good range of motion?
Tip 1: We would encourage immediate, but cautious complete passive range of motion following surgery. This has been found to have the best long-term outcomes and fastest recovery times.
Tip 2: Be consistently diligent and disciplined with your rehab. Don't try to shortcut the road to recovery. Time is a great healer, and be guided by your Physiotherapist/Physical therapist.
Tip 3: Get a Shoulder Physiotherapist Specialist to guide you through your rehab. If you are interested in a free screening call with myself, then simply click here.
Tip 4: Keep track of your range of motion and pain throughout recovery. Reflex: Your Shoulder Mobility is the best app for measuring your shoulder range of motion from home.
Conclusion:
Shoulder replacement surgery is generally a safe and effective procedure to help relieve pain and help you return to normal daily living activities. The degree of how much range of motion returns depends upon any pre-existing pathologies including rotator cuff damage, rheumatoid arthritis, traumatic events or other.
Over 96% of TSA patients returned to at least one sport 6-months following surgery, with a crude average return of range of motion being 70%. This is more favourable than RTSA and RA in this order, but most patients who have a shoulder replacement do very well functionally and the majority can return to their normal activities within 6-months.
You're minutes away from knowing if you have a normal range of motion.
With your iPhone and iPad app, you can measure your shoulder range of motion in less than 5 minutes and get a clear picture if you are in a normal range of motion. This range of motion information is useful for making decisions about medical treatments, such as surgery. Seeing your progress also means you can stick to your goals when you are in recovery. 
Download Reflex Today and begin your recovery records.